artist watch list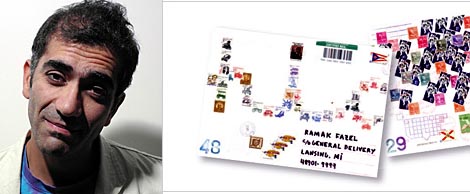 The New York Times had an
article
on Sunday about Ramak Fazel, an artist who was placed on the FBI watch list. From the article:

[Fazel] set out on a photographic and philatelic odyssey from his mother's home in Fort Wayne, Ind. His mission was to photograph each of the nation's 50 state capitol buildings and dispatch a postcard from each city, using postage stamps from a childhood collection. Each postcard would be mailed to the next state on his journey, where he would pick it up, continuing until he had gone full circle back to Indiana.

But there was a problem. On a flight from Sacramento, Calif., to Honolulu, Mr. Fazel described his project to a fellow passenger. He later discovered that she had reported him as suspicious — perhaps to the pilot or the Transportation Security Administration — and taken a picture of him as he slept.

Maybe it was because he was vaguely foreign looking, he reasoned, and his photographic endeavor seemed menacing in a post-9/11 landscape. He also had a three-day growth of beard, he recalled. And, although Mr. Fazel grew up mostly in the United States and is an American citizen, there was his Iranian name.
And it wasn't just a problem boarding planes. While in Jackson, Mississippi, a loudspeaker order Fazel (by name) to come out of his van with his hands up. After being handcuffed, face down on the concrete he was allowed to get back in his van and go. In Atlanta Fazel was prevented from entering the capitol building. In Columbia, South Carolina he was questioned by police officers who somehow knew Fazel lived in Italy. At the Maryland capitol he was was asked to wait and then:
Suddenly, Mr. Fazel said, he was handcuffed and rushed through corridors into a police station, where a man he later learned was a member of the Maryland Joint Terrorism Task Force with the F.B.I. started speaking to him in Farsi.

As Mr. Fazel related it, the experience went as follows:

"I'm American," Mr. Fazel said. "I speak English."

Another officer asked, "Where are you really from?" Mr. Fazel produced his Indiana driver's license.

"I can tell by looking at you that you're not from Fort Wayne," the officer replied.

After a four-hour encounter in which he was asked about a recent trip to Iran for an Italian design magazine and about who was financing his trip to state capitols, he was released without being charged.

Ramak Fazel's has an art show about this (called
49 State Capitols
) that opens tonight at the
Storefront for Art and Architecture
and runs through March 8th.
---
Hasan Elahi
, an artist and professor at Rutgers, has taken this sort of Kafka-esque experience and has turned it into an
on-going performance
. From a
Wired Magazine article
about him:
Elahi's site is the perfect alibi. Or an audacious art project. Or both. The Bangladeshi-born American says the US government mistakenly listed him on its terrorist watch list — and once you're on, it's hard to get off. To convince the Feds of his innocence, Elahi has made his life an open book. Whenever they want, officials can go to his site and see where he is and what he's doing. Indeed, his server logs show hits from the Pentagon, the Secretary of Defense, and the Executive Office of the President, among others.

The globe-hopping prof says his overexposed life began in 2002, when he stepped off a flight from the Netherlands and was detained at the Detroit airport. He says FBI agents later told him they'd been tipped off that he was hoarding explosives in a Florida storage unit; subsequent lie detector tests convinced them he wasn't their man. But with his frequent travel — Elahi logs more than 70,000 air miles a year exhibiting his art work and attending conferences — he figured it was only a matter of time before he got hauled in again. He might even be shipped off to Gitmo before anyone realized their mistake. The FBI agents had given him their phone number, so he decided to call before each trip; that way, they could alert the field offices. He hasn't been detained since.

So it dawned on him: If being candid about his flights could clear his name, why not be open about everything? "I've discovered that the best way to protect your privacy is to give it away," he says, grinning as he sips his venti Black Eye. Elahi relishes upending the received wisdom about surveillance. The government monitors your movements, but it gets things wrong. You can monitor yourself much more accurately. Plus, no ambitious agent is going to score a big intelligence triumph by snooping into your movements when there's a Web page broadcasting the Big Mac you ate four minutes ago in Boise, Idaho. "It's economics," he says. "I flood the market."
Labels: privacy, surveillance